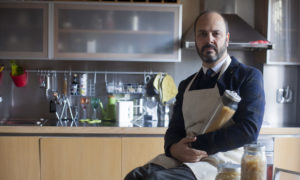 "Una volta che hai una cucina, te stesso e Shakespeare, puoi fare qualsiasi cosa".
Ho cominciato il mio training d'attore da ragazzo prima a Londra alla Richmond Drama School dove la cosa più importante che ho imparato è che il teatro (l'arte in generale) deve "essere pericolosa", per l'artista in primo luogo. Il pericolo è la l'accettazione e l'esplorazione del vuoto davanti a te. Poi sono entrato alla Scuola del Piccolo Teatro di Milano che mi ha letteralmente rivoltato la vita. Ho imparato la frustrazione e ho conosciuto i miei limiti. Ho imparato la differenza fra il mestiere con le sue regole facili, sempre applicabili e l'arte che invece è ogni volta un salto nel buio. E non sempre funziona. Altri insegnanti nel mio viaggio mi hanno insegnato la fatica, la responsabilità e la semplicità che è sempre un traguardo e mai un punto di partenza. Anni fa mentre cucinavo mi sono messo a recitare Shakespeare. Così è nato il progetto LO ZIO WILLY: raccontare e fare Shakespeare esplorando il significato di quei versi oggi. Che non significa solo affidarsi a rivisitazioni moderne per essere originali, ma capire veramente cosa quei versi possono voler dire oggi, qui, a me, a te, a lui/lei… a tutti loro.
A proposito di cucina! Guarda il video di "Porzia e i cupcake": https://youtu.be/gesWda9txIY
"Once you have a kitchen, yourself and Shakespeare, you can do anything".
I first began my training as an actor in the UK at the Richmond Drama School where I learnt the most important thing about theatre and the art: it has to be dangerous, for the artist in the first place. The danger you go through is accepting ed exploring the vaccum in front of you. Then I entered the Scuola del Piccolo Teatro in Milan which litterally turned my life upside down. I got to know frustration and I acknowledged my own limits. I learnt about the major difference between craft with its easy rules and the art which is always a jump into darkness. And it doesn't always work. Other teachers on my journey taught me about effort and responsability and simplicity which is always a goal and never ever a starting point. A couple of years ago I was cooking dinner in my kitchen and I started playing Shakespeare. That's how UNCLE WILLY started: by narrating and doing Shakespeare, and by exploring the meaning of his verses today. It doesn't mean you necessarily have to relay on modern versions in order to be original; it means you have to really and deeply understand (and "question yourself") what those verses can mean today, here in this very place, to me, and to you, to him/her… and to all of them.
And while speaking about cooking, watch this video, "Portia and cupcakes" (italian): https://youtu.be/gesWda9txIY
Enrico