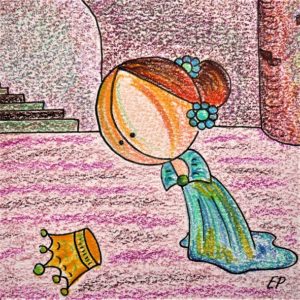 WRETCHED QUEEN
"Wretched Queen adieu!" (Hamlet,V,2)

To every fallen crown, to every useless piece of gold, to all dead objects without soul, to every trick which covers and smothers our true breath, to every kind of  boasted power we proclaim with scorn and narcissism, and to all sorts of false self-confidence and alibis and lies we tell ourselves, to every symbol of our fears, adieu! Let's look very carefully at our useless titles, for they are all we are not, and that gives us the chance to make up with what we are, once for all.
SVENTURATA REGINA
"Sventurata Regina, addio!" (Amleto,V,2)
A tutte le corone cadute, a tutto l'oro inutile, a tutti gli oggetti morti e senza anima, a tutti i trucchi che mascherano e soffocano il vero respiro, a tutto il potere sbandierato con disprezzo e vanità, a tutte le false sicurezze e gli alibi e le bugie che raccontiamo a noi stessi, a tutte i simboli delle nostre paure, addio! Guardiamo bene la sterile inutilità dei nostri titoli, perché sono tutto ciò che non siamo; e sono l'occasione per riconciliarci con ciò che siamo una volta per tutte.
EP